The Death Princess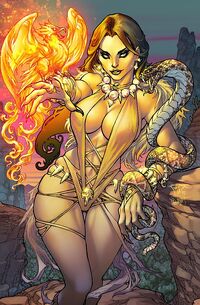 Current Alias
The Death Princess
Characteristics
Status
Origin
Orlana was born long ago, and since she was young, she has been able to use magic. Many of the Earth's most powerful magicians came together to defeat her, yet their combined power was barely enough to overpower her.
She often uses her magic and hypnosis abilities to get people to do what they would not normally do, thus giving her a large empire, though her lack of interest in her 'subjects' meant her army was incredibly underprepared for battle, which did not matter much to Orlana.
Despite her first attempt at taking over the world failing and ending in her imprisonment in a slave camp, she still wished to rule the Earth, and was able to do so by hypnotising many of the universes threats such as Ember Silva, Terza, Evani and Terra.

Powers and AbilitiesEdit
Powers
Discover and Discuss
Edit